Tuesday 9th May: The second of SCC's time trial series, first rider off - 7pm Halfpenny Green.
Wednesday 10th May: The first of three coaching sessions at Stourport track - 7pm start. All SCC members welcome.
Monday 15th May: at the clubroom - Pat Green's adventures in Vietnam.
Tuesday & Thursday training rides: meet Summerhill 6.30pm.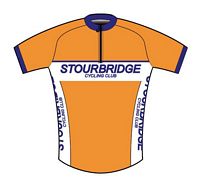 Club News:

25th April: Jacob Tipper wins the first of SCC's time trial series. First SCC rider home is Phil Glaze. Some good times for a cold evening. Results

27th March, AGM: No committee changes, Derek Hill wins Wags Kup, Amanda Whitehouse wins the cyclocross trophy, Tracey Hipkiss wins most improved rider and Ian Cadwallader Club Member of the Year. Life membership for Carol Rowntree. Saturday rides were discussed and in future in the event of more than 10 attendees, the rides will be split. Also new start times for the B, C and D groups.

28th January: Chris Lloyd wins the 4th cat Wooly Mamil race at Stourport in only his 2nd race. A big SCC turnout.
Hannah Payton competes in the cyclo-cross World Championship in Luxembourg and is 27th.

weekly planner
Tuesday
Summerhill ride
1830
Thursday
Summerhill ride
1830
Saturday
Summerhill rides, "A" is the fastest ride. "D" is entry level, newcomers etc.

B 0810
C 0815
D 0820
A 0830

Saturdays
off-road (Bonded)
0900
0915
0930
Sunday 30th April

Earlswood
Earlswood

0830
0900

Clubroom: The Roy Archer Room, Oakfield Community Centre, Brettell Lane, Amblecote, Stourbridge, West Midlands DY5 3LT. Mondays from 8pm